Omura Vaporizers and Cannabis Flowersticks Now at Caliva
Welcome to an entirely new cannabis experience with Omura's sophisticated heat-not-burn technology
Smoking flower is one of the most popular ways to enjoy your cannabis experience— even though it's not the optimal way to enjoy the aroma, terpenes and flavor, it's the easiest way to consume cannabis and is as old as time. However, packing a bowl or rolling a jay aren't always the most convenient (or discreet) ways to enhance your day. 
If you love the convenience of a vape and the full flower experience of a pre-roll, we've got some good news—Caliva is now offering the best-of-both-worlds with Omura heat-not-burn vapes and flowersticks. Now you can enjoy the flower experience, without the burn. 
Meet the Omura Device
Omura is at the forefront of the cannabis industry and is using advanced technology to bring customers like yourself the best experience possible. You might have noticed Omura likes to do things a little differently—after all they did design a way to combine pre-rolls with whole flower vapes—who even knew that was possible! Their patented technology relies on a heat-not-burn dual oven to gently heat the flower via their own thoroughly researched and proprietary heat curve. 
It is compatible with biodegradable flowersticks, each filled with 100% whole flower, for a top-notch experience that's full of terpenes...and doesn't skimp on flavor or taste.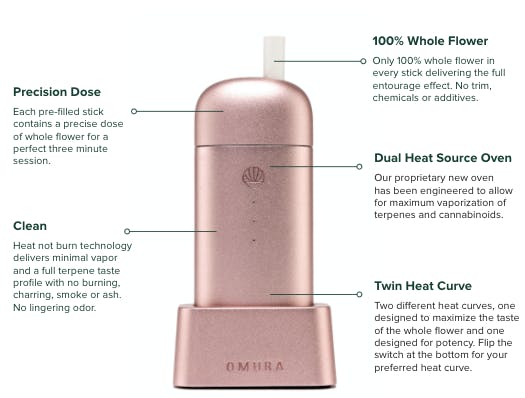 Device design
Let's take a closer look and answer some FAQs for this oh-so-convenient device, which is sure to be your new go-to fav. 
What is the size of the Omura device?
The Omura Series X is 92.9mm (3.6in) tall, 39mm (1.5in) wide and 21.9mm (.8 in) deep. Its ergonomic design fits into your hand comfortably, while it's also conveniently small enough to stash in your pocket.
How does the Omura charge?
The charging port is located on the bottom of the device and comes with a USB-C cable for your convenience. Just place your Omura device in its charging base when it's not in use so you'll never have to worry about a low or depleted battery!
What's the battery life like?
When fully charged, the battery is designed to give you a smoke sesh of approximately 3-3.5 minutes per flowerstick. On this fully charged battery, you should also expect to get approximately 6-8 sessions. When the battery is fully depleted, it will need about 2 hours to come back to fully charged.
Are there buttons?
There are no buttons with the series X. When you're ready to start your session, simply add the flowerstick, and let it do its thing! It will need to warm up first (which takes about 30 seconds).
What do the LED lights indicate?
The LED lights indicate the battery level as well as how much time is in your session. Check the battery level by inserting a flowerstick or putting the device on the charging base. The number of lights that are illuminated will indicate how charged it is. When you insert your flowerstick to start your session, the lights will blink, indicating that the Omura device is starting to warm up. When all 3 are lit, the device is ready for use. 
How comfortable is it to hold?
The Omura device is designed by an award winning industrial designer to fit comfortably in your hand. 
A Whole New Product Line Available at Caliva
Caliva has teamed up with the tech wizards at Omura to offer you the latest and greatest way to to enjoy your cannabis experience. When you think of vaping, you probably think of putting an oil cart into your battery. Don't get us wrong, this is still a convenient and fantastic way to enjoy concentrated cannabis. However, what if we told you that now you can enjoy the full range of cannabinoids and entourage effect that come with the flower experience, without the smoke and heavy scent? Better yet, a hand held full flower vape that doesn't require you to grind up your own weed, pack it into the device, and clean it all up. Well it's not too good to be true because Omura has already created an awesome way to combine a whole flower vape with a pre-roll—and they're now available at Caliva. 
Using the Omura vaporizer is one of the easiest ways to vape flower on the go, and Omura has partnered with quality brands to deliver their flower in the convenience of flowersticks, including your favorite top-shelf Caliva strains! Alien OG, Sour Diesel Lemon Kush, and Watermelon Sorbet are all available in Omura's flowersticks. 
So you might be wondering, why make the switch to Omura's whole flower vaporizer? Well, there are a few reasons we think will make you switch:
Convenient. You won't have to worry about having loose flower all over the place (and wondering where you left it!) because flowersticks are all pre-packed and ready to insert into the device. 

Clean. The Omura device's heat-not-burn technology aims to replace the smoke typically associated with burning flower with minimum vapor, for a smoother smoke and no long-lingering odor. This also means there's no burning, charring, or ashing, which makes for a more discreet and convenient sesh that you can enjoy either at home or anywhere your adventures might take you.

In addition to a smoother smoke, each flowerstick is conveniently a single use mouthpiece, which means no sharing is necessary and each person gets their own flowerstick. 

Experience. Whether it's Omura's heat-not-burn tech delivering big on flavor by ensuring all of those tasty terpenes aren't damaged by combustion, or the high that follows a full range of cannabinoids you'd expect from flower (the entourage effect!), vaping with Omura is second-to-none.

Simple to use. One of the highlights of using vapes is that they're simple to use—and the Omura device doesn't let you down here. You just insert your flowerstick to automatically activate the heat-not-burn technology, and puff away. When you're done, simply place the device back on its stately charging base until your next session, or keep it in your bag or purse to keep it ready and waiting in the wings until you use it again. Can't get much easier than that!

Strain variety. With Omura it's all about choice. We've pre-packed a variety of fresh cannabis flower strains into flowersticks, so you have some of your favorites to choose from. Plus, you can have peace of mind knowing that flowersticks are all natural! No added terpenes or fillers—it's just whole flower! Talk about getting the best of both worlds.
How Does the Omura Device Work?
Easy to Use flowersticks
Once you have your Omura device, you're going to need some flowersticks to go along with it. Flowersticks are disposable, biodegradable, compostable rolls that are made using rainforest-safe paper. You can purchase pre-filled flowersticks from trusted cannabis brands. Each stick holds 0.145g of whole flower per stick (1.75g per 12 pack). Keep in mind that each flowerstick is designed to use only one time—so once your session is done, you can dispose of or compost the stick. 
Industry leading whole flower vaporizing technology 
As you can see, Omura has developed a way to mix the flavor and terpene profile of a pre-roll with the convenience and customization of whole flower vapes. With these devices you can even choose whether to use high or low heat, to either increase potency or taste. Their patented dual heat oven eliminates char, burn, smoke, and ash and ensures each puff has minimal odor—delivering a top-shelf experience in the smallest heat-not-burn device available on the market. It makes sense that the Omura device was designed by an award-winning industrial designer, because how else could you ensure that all the benefits of fresh flower vapes and pre-rolls would combine so perfectly? Because clearly they have.
How to use the Omura device
We love how easy it is to get this elegant little vaporizer going:
Place your flowerstick in the device flower side down. Series X turns on automatically.
Allow the device to warm up while the LED lights pulse for around 30 seconds. It's ready to go when all the LED lights are lit and it vibrates one more time.
Take long, slow pulls through the flowerstick. Vapor will increase throughout the session along with the heat curve.
Enjoy your session! The LED lights will indicate when your 3-3.5 minute session is winding down and then finished. 
The device will then switch itself off.
Remove and discard the used flowerstick and place your device back in the charger for storage.
How to Change the Series X Temperature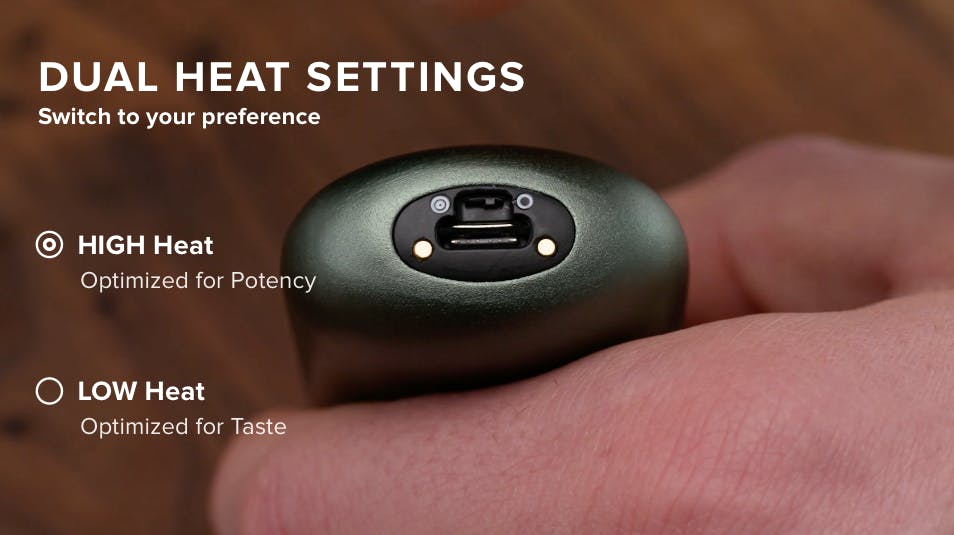 The Series X features two heat curves, one HIGH and one LOW. 
To change the temperature setting, at the bottom of the device use your finger to toggle the switch. The filled in concentric circle is the HIGH setting which is focused on delivering potency. The empty circle is the LOW setting that is focused on taste. 
You can pair your Omura device with a variety of pre-filled THC strains available from Caliva 
and TSO Sonoma: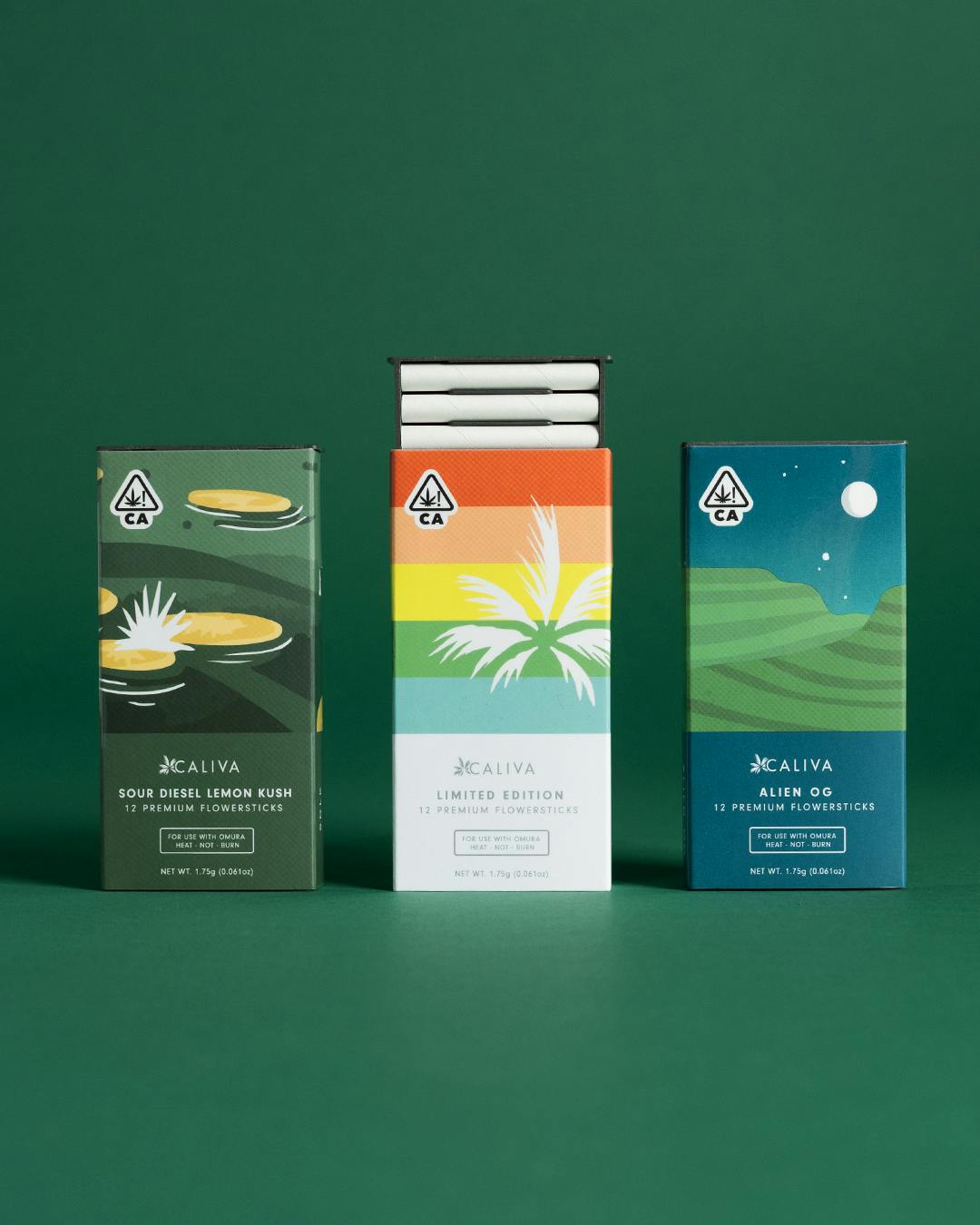 Flowersticks by Caliva:
Alien OG - heavy hitting indica with approximately 29% THC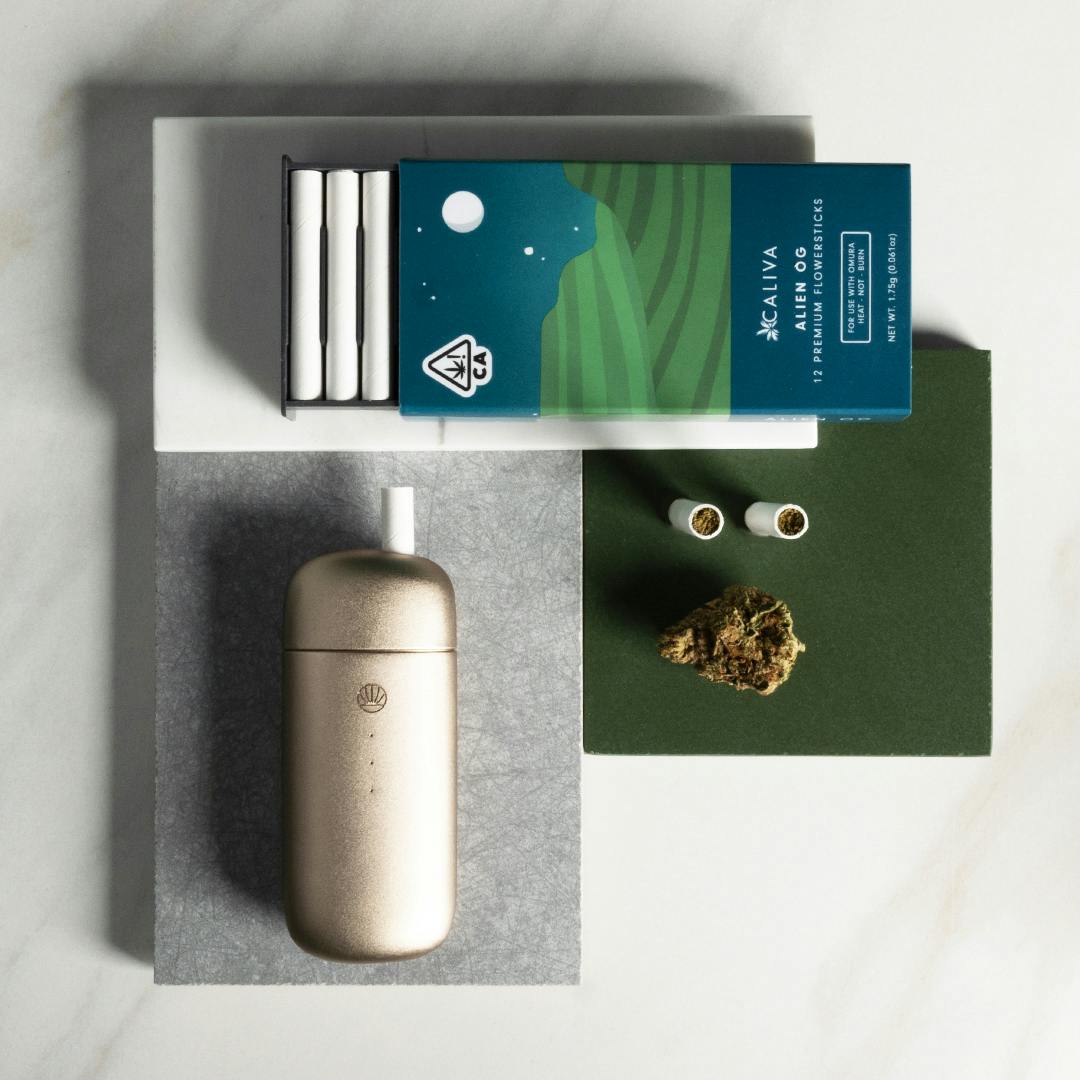 Sour Diesel Lemon Kush - diesel and lemony sativa with approximately 18% THC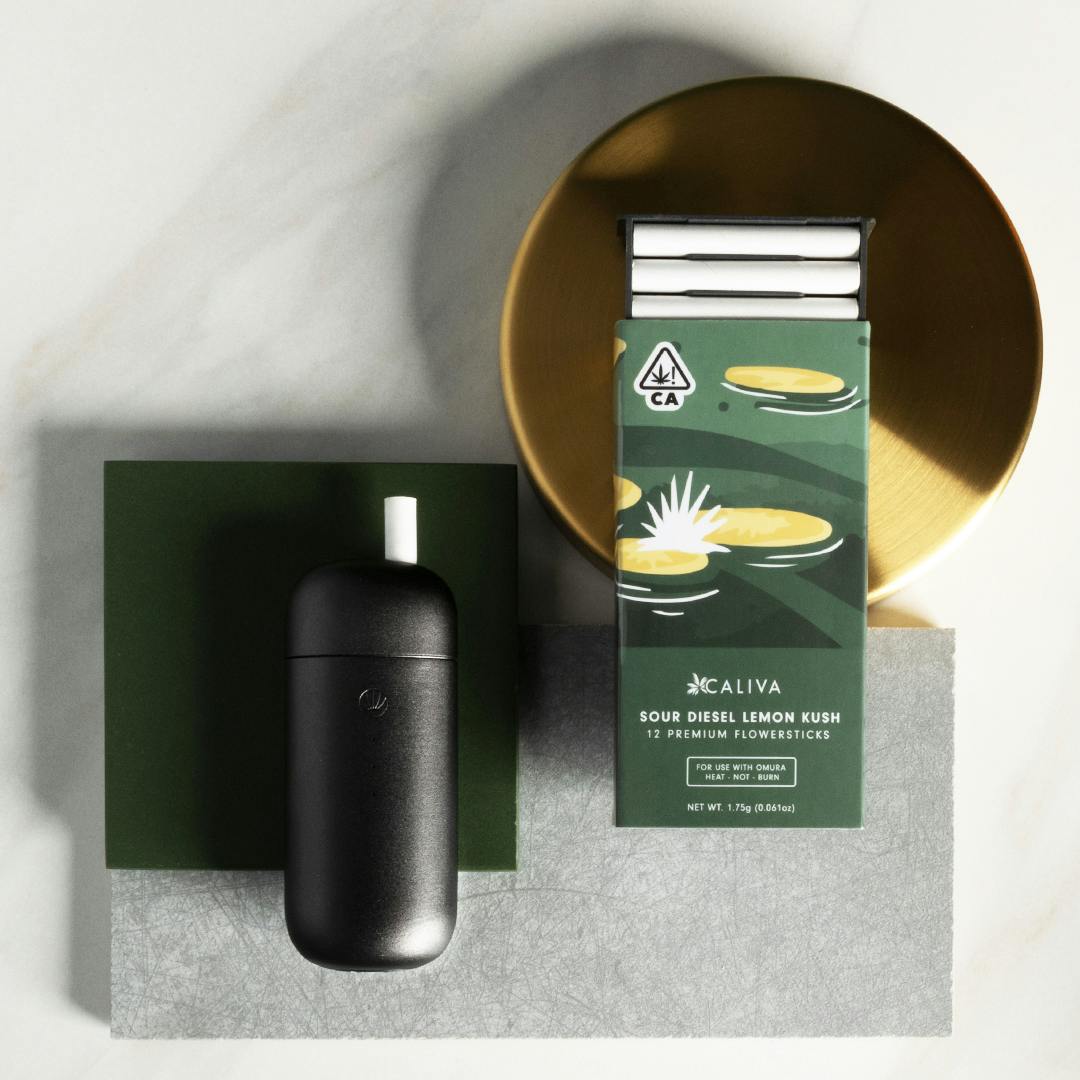 Watermelon Sorbet - rich and creamy hybrid with approximately 22% THC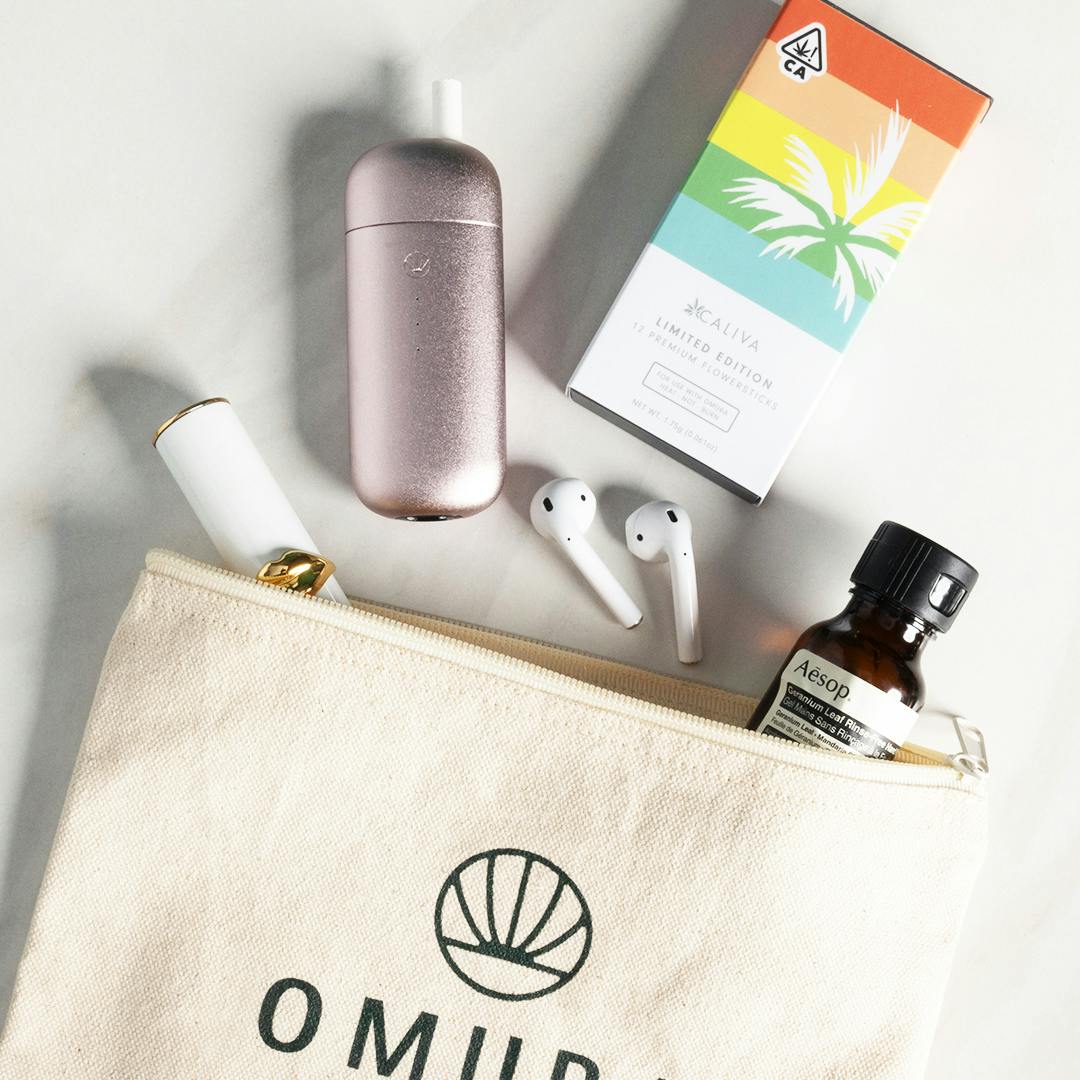 Flowersticks by TSO Sonoma:
Durban - grounded sativa with approximately 22% THC
Lemon OG - uplifting hybrid with 8%THC and 11% CBD
White Tahoe Cookies - chilled indica with 19% THC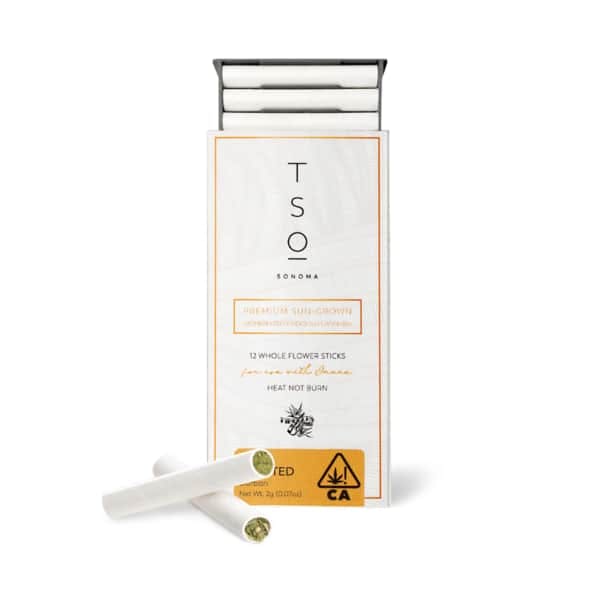 You can also pick up CBD flowersticks on CalivaCBD.com from brands like:
Barbari
Oriel
Bluhen
Libertine
OHHO
Specials on Omura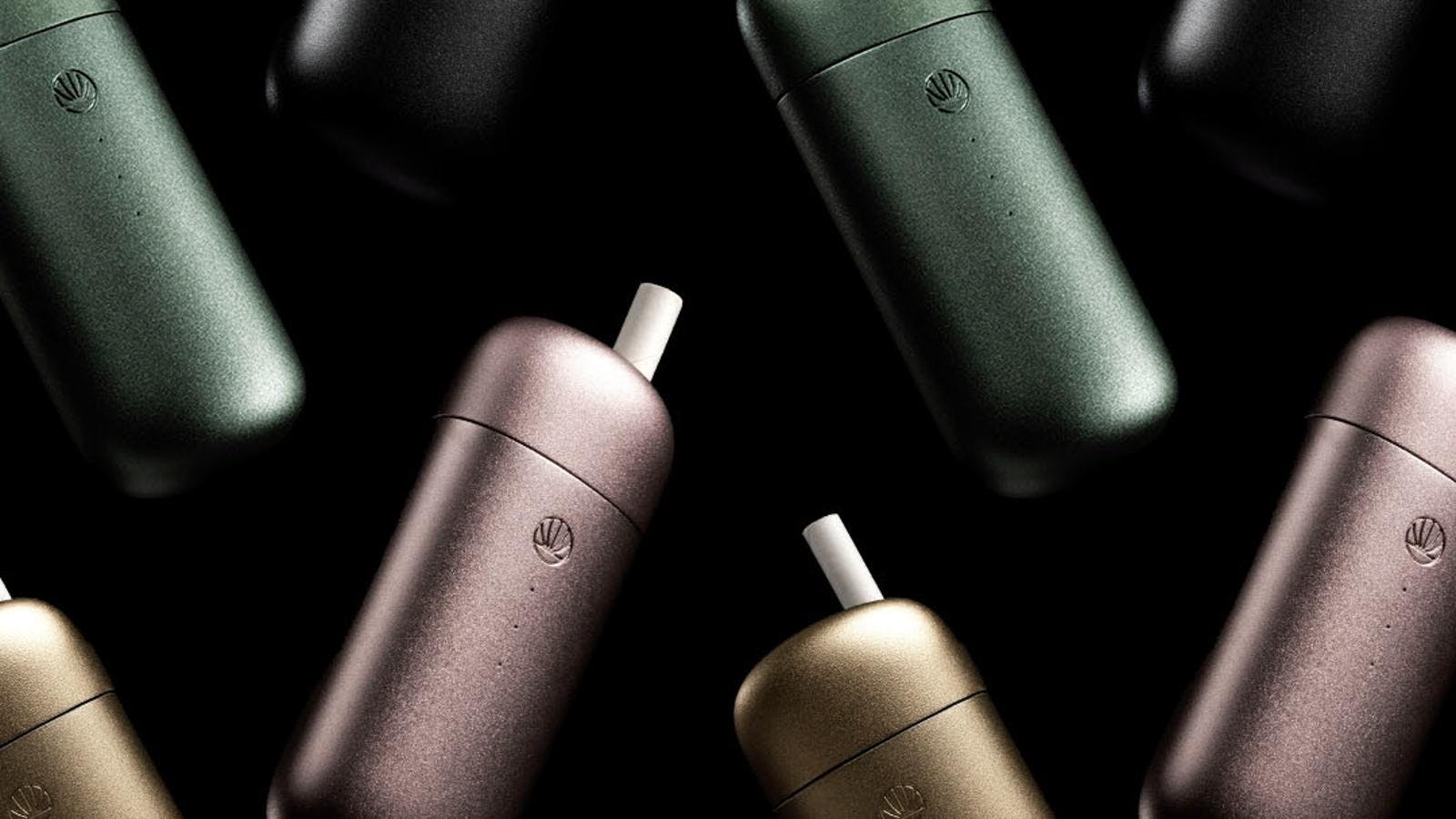 Now is the perfect chance to try out this sophisticated heat-not-burn device, since we're offering it at half price! Don't forget to pair it with a pack of flowersticks available in must-have strains. Pick up an Omura X1 Vaporizer for $49 and start enjoying all the flavor of whole flower, without the burn.