Letters to Mary Jane, by Steph Bader
Our Letters to Mary Jane series highlights influential voices in the Black Community, providing them a prompt to express their gratitude for marijuana and how the plant is improving their lives. We hope you enjoy the "Letters to Mary Jane" series, curated by Caliva guest editor Lyneisha Watson.
My Mary Jane,
We first met when I was 16. I did not know you would be my life-long love, but you have been for over 50 years. You comforted me through my struggles with being "different" in high school. You wrapped your arms around me and buried me in your earthy aroma. You led me deeper into my mind and my music, and we have evolved together, my Mary Jane.
You made me an outlaw. You brought me, friends. You lit me up. You calmed me down. You whispered in my ear as I created. You filled my head with images that I could translate into song, my Mary Jane. You taught me that being different is a gift.  With you, I fell in love with my entire self. I found my center. I learned to celebrate my gayness and to find peace in the fullness of who I am.
You taught me that a garden is a beautiful place, my Mary Jane. You helped me understand the wonder of growing things. I have learned how to be in nature and provide you with the same support you have provided me. In your garden, you taught me peace. You taught me how to shut out the external noise and go inward. You taught me how to listen to silence: listening to my internal music. Through you, I learned how to float and how to dream in your arms, Mary Jane. You taught me how to let go of myself and connect with my spirit. I am weightless in your smoke. Your embrace heals me.  I am your lover, and you are mine.
Through the years, we have traveled together, Mary Jane. You eased a path through the corporate machine that would otherwise have beaten me. You helped me learn that there is so much more to being alive. Together we have created teachings that have benefitted many and have made my heart proud. I have spread your goodness and your healing powers. I have become a disciple and a preacher of the great healing that is Mary Jane. 
Through all the multitudes of life experiences, you have been a constant friend, mentor, teacher, partner, lover, soother of life's bruises, of the pain of the jealousy, spite, and malice, of the world's ugliness.
Now I am old, and you are wise, and you ease me through the accumulated injuries of life, both physical and emotional. Now we come together like old friends, and I look forward to the blooming ease that comes when I call you. And now you perform your magic and healing on my wife, who lives in such pain. You ease her through her agonies and help her get through such difficult days. Now you help me through my restless nights. Now you give me the patience to cope with a world I never expected to live in. Now, we are settling into comfortable habits. And now I still love you, my Mary Jane.
Steph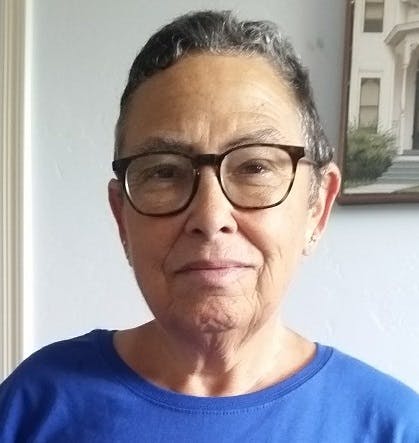 About Stepn Bader
Steph Bader is 70, lesbian, and has been living with the same woman for 45 years—married for the last 7. She lives in Tucson and she says that she is totally centered there. She is in love with the desert and always has been. She has been a musician all her life, professionally for part of it, and she still sings. She's been an entrepreneur a good part of the time with 14 years taken out to work for Big Tech. Most lately prior to retiring, she's been teaching Entrepreneurship, Leadership Skills, and Critical Thinking at her local Community College.
She is part of the leadership team of Indivisible and Strong, a locally active political group that's part of the national Indivisible organization. In her spare time, she gardens cactus and succulents, and she boxes.
I'm a bit of an old fogey, and so my social media activity these days is limited to FaceBook. Here's the link to my page: https://www.facebook.com/stephanie.bader.9277/